Your customer's experience is not just with your product – the supporting documentation is an integral part of the solution you are providing to your customer. They want to find answers fast, without having to trawl through complicated documentation. Raising an unnecessary support request is a huge waste of their (and your) time.
We all know Confluence is the best place to keep up to date product documentation. Sarah Maddox, Google tech writer, has written extensively about how you can use Confluence to collaborate on documentation. And Atlassian recently published an ebook exploring how software teams write documentation.
So you've created informative product documentation, but how do you get this valuable content into the hands of your customers?

Instant Websites turns your great content into a super fast website. Using Instant Websites, you can publish any Confluence Cloud space as a publicly accessible and mobile responsive website. 
Over 80% of Instant Websites users discovered the product when searching for a better way to publish their product documentation. They were already using Confluence Cloud to write and collaborate on documentation, but they needed a way to turn their Confluence content into a beautiful, responsive website.
Instant Websites won Best Confluence Cloud Add-on – Atlassian Codegeist and has been included in the Atlassian Best Cloud Add-ons of 2015.
Let's explore how Instant Websites users use best practices for product documentation to deliver a great experience for their customers.
Use Your Own Domain
One of the first things that catches a website visitor's eye is the domain name. Most companies use docs.company-name.com as the home for their product documentation and as such this has become a de facto standard.
On Confluence, we often see the default domain for product documentation as company-name.atlassian.net. This may not be the best way to represent your brand.
Customers are increasingly savvy about finding official documentation. With Instant Websites, you use the domain name of your choosing. For instance, docs.arijea.com. The domain name is a clear and concise way to let the customer know they are where they expect to be – at the official product documentation.
Finally, on mobile the complete URL is not visible; only the domain name can be seen. Using the company domain name reinforces your brand, regardless of what device your customer chooses to use.
Be Mobile Friendly
Mobile now accounts for over 50% of internet usage (source) so ensuring that documentation is available on your customer's platform of choice is key. Confluence enables teams to create high quality documentation and Instant Websites makes that documentation accessible on every device.
Don't be the company that directs a mobile user to a documentation site designed for the desktop.
Organising Product Versions
If you ship version based software, you know it's best practice to make the latest version's documentation the easiest to find. Documentation for the previous versions can be put under a "Past Releases" page. Instant Website's navigation makes it easy for your customers to find what they need.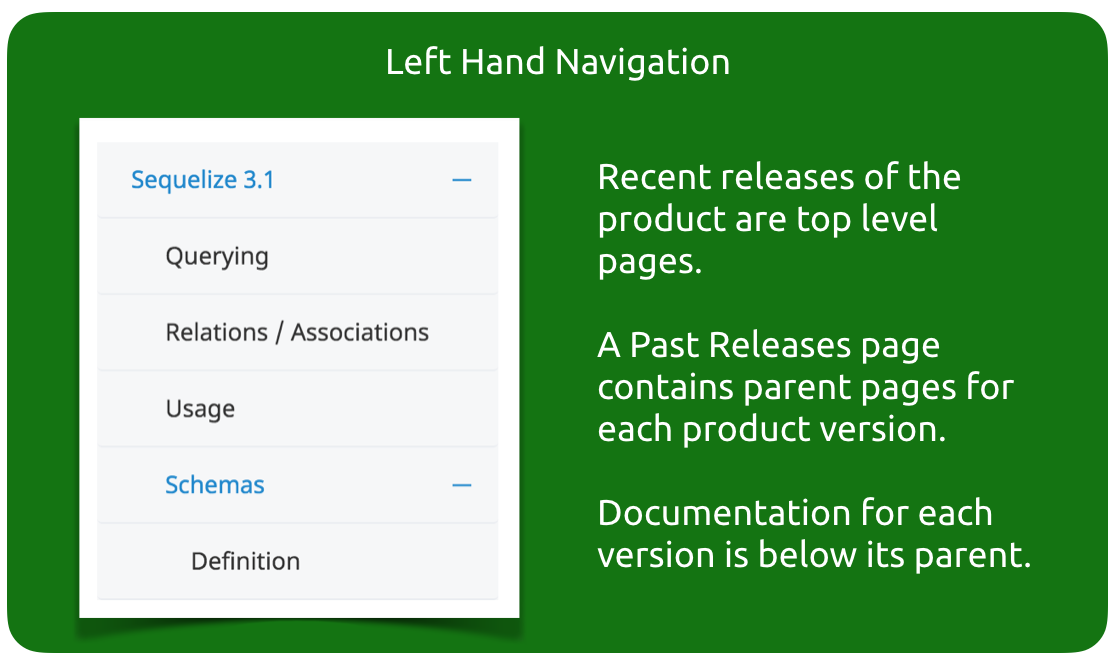 Use Images and Media
Documentation comes alive when you can walk customers through the product with images and/or videos. It can be especially valuable if you can share a customer case study.
Confluence's Rich Text Editor allows you to adjust your image alignment easily. And don't be afraid to use horizontal rules, sections and other formatting macros to get the layout right.
Once you're happy with the page, use Instant Websites to keep the same formatting for your website. That's right, you can now use Confluence's Rich Text Editor which you are familiar with, to format your website. 
Provide Related Content
Adding links on your documentation page to related content will help your customer learn more about your product.
To create related content sections, use the Content by Label macro and specify the type of content you want to include. There are filters for content types (pages, blog posts), labels, creators and more. There is lots of flexibility in the macro.
Instant Websites supports the Content by Label macro. By providing related content, you are helping your customer navigate the product documentation and find the answer they are looking for.
Add JIRA Issues to Release Notes
When writing release notes, include JIRA issues which were fixed in the version. It's a great way to communicate highlights of the latest version to your customers.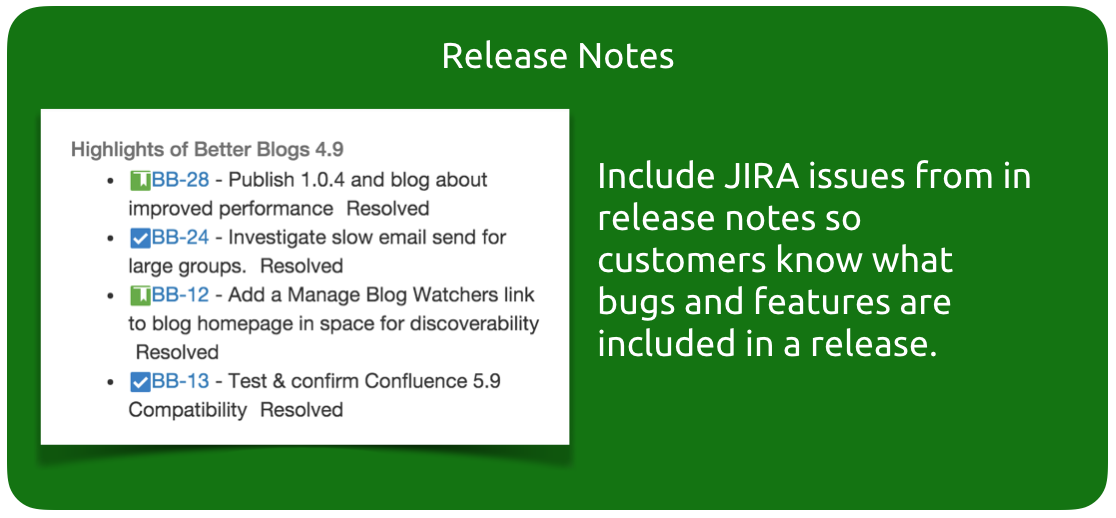 Adding JIRA issues is easy. Just include the JIRA Issues Macro with a query like project = BB and fixVersion="4.9″ and you'll see the issues on your release notes page.
Great Documentation = Great Customer Experience
Confluence is the best place to collaborate on product documentation. And with Instant Websites you've got the best solution for publishing that documentation to a public website that's super fast and mobile responsive. Implement best practice documentation and provide a great product experience to your customer.