There is so much going on on Twitter it may be hard to keep up. You've got mates, colleagues, sports teams, musicians, comedians, business leaders and a whole lot more. In this post I'm going to share how I keep on top of all these various groups without feeling overwhelmed.
I use a combination of TweetDeck and Twitter to keep on top of all the cool stuff that is going on around the world. Let's take a look at how Twitter Lists and TweetDeck can help you do the same!
Twitter Lists
A list is a curated group of Twitter users. You can create your own lists or subscribe to lists created by others. Viewing a list timeline will show you a stream of Tweets from only the users on that list.
So, Twitter Lists allow me to group people around topics of interest. For instance, here are some of my favourite lists:
You can subscribe to the Lists above or create your own. Find all my lists here.
Okay, now you've got some Lists, how do you keep on top of them? Enter TweetDeck…
TweetDeck
TweetDeck is another Twitter product, built by some fine folks over in London. If you don't already have an account get started now.
This piece is really easy, all you do is add columns for your Lists. Click the + button in the lower left and select Lists:
You can then select one of your lists, or one that you have subscribed to:
Then just press the Add Column button:
And voila!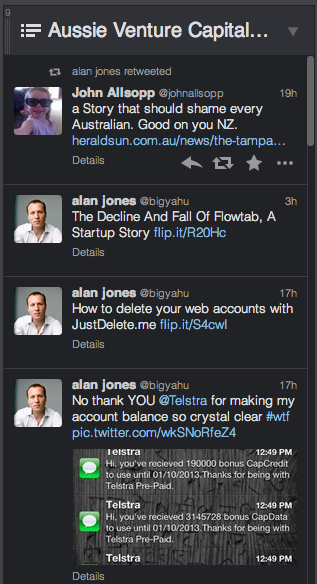 Like this? Let me know:
Finger on the Pulse, with Twitter http://t.co/Pt3Hxjj7zm

— Nicholas Muldoon (@njm) September 1, 2013